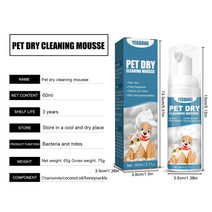 Waterless Dogs Cats Shampoo No Rinse
Bullet Points:
1、【Handy and Simple】: The Waterless Cat Shampoo can be can be used as an alternative to bathing, providing you with handy cleansing for your pets, saving your time and labor.
2、【Easy to Use】: The Cat Dry Shampoo will make your pet coat freshened and shine, and is easy to use by applying to the hair and wiping with a towel, requiring no water for rinsing.
3、【Gentle Formula】: The Waterless Foam Wash is formulated with effective coconut oil, which helps remove dirt and dust on the surfaces quickly, and also contains chamomile and honeysuckle to condition hair.
4、【Multifunctional Uses】: The No Rinse Dog Shampoo is great for general cleaning or just removing dirty spots, leaving your pet clean and soft appearances.
5、【Widely Applicable】: The Pet Cleaning Mousse can be used for most animals, including dogs, cats, horses, cows, goats, camels, alpacas, rabbits, and more.
Description:
The Waterless Pet Shampoo can is gentle and effective in cleansing your pets' coat without requiring water for rinsing, making it as an alternative to bathing, and is widely used for most animals, such as dogs, cats, horses, cows, goats, camels, alpacas, rabbits, and more.
Specifications:
Product Name: Dog Dry Shampoo / Cat Dry Shampoo
Content: 60ml
Function: Rinse free odor removal for cats and dogs
Ingredients: Chamomile, Coconut Oil, Honeysuckle
Packing List:
1* Waterless Wash Foam
Notes:
1. Due to the lighting effects and shooting angles, there is a color difference in the product, please understand.
2. Due to manual measurement, there is a tolerance in the product size.
If you're not fully satisfied, please fill in our
contact us form
and we'll quickly work to correct the problem.