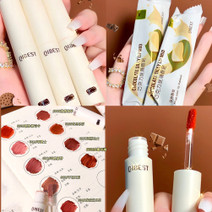 QIBEST Lip Gloss 8 Colors Lipstick | Waterproof Long Lasting Women Red Lip Tint Velvet Lip Glaze Cosmetics
Velvet Matte Liquid Lipstick Waterproof Lip Gloss Long Lasting Nude Lipstick Women Red Lip Tint Beauty Cosmetic
Specifications
Product Name: Chocolate Silky Lip Mud

Net weight:2.5g

Quantity: 1 pc

Applicable skin type: suitable for a variety of skin types

Best way to use: Use after setting makeup

Effect: finely fill the fine lines and dry lines on the lips, show full and moist lips, rich color and enhance complexion
Description:
1. The texture is silky and comfortable like chocolate, the upper lip is silky and close to the lip skin, smooth, soft and not sticky; the color is saturated, easy to color, and a touch of rich color;

2. Velvet matte makeup effect can easily cover lip lines and highlight advanced lip makeup, super soft clay protects the lip skin and effectively prevents moisture loss;

3. Quickly form a film and waterproof, which can effectively prevent makeup removal caused by drinking water and pursing lips.
Feature:
1. A touch of smoothness, rich color;

2. Dumb but not dry, covering lip lines;

3. Waterproof and hold makeup, not easy to stick to the cup.
About color
#600# Singapore Sling: Bright water red, similar to Scarlett red, painted with noble and cold temperament;

#601# Gin Fizz: White peach color, super tender summer MLBB color, natural and tender;

#602#Margarita:Like coffee melted into bright red roses, gentle and sweet;

#603# Dry Martini: Light milk tea color, painted in a very natural, day variegated color, creating a gentle and sweet makeup;

#604# Tequila Sunrise: Milk powder brown, gentle and pleasant sweethearts are sweet;

#605# Sex on the Beach Passion Coast: red-toned milky orange, white weapon;

#606# Long Island Iced Tea: Dirty pumpkin color, thin coating for gentle guests, thick coating full of aggressiveness;

#607# Alexander Alexander: Naked milk tea powder, the mouth is a softer brown, the thin coating is super-daisy, and the thick coating is cocoa color;

#609# Bloody Mary: Red-toned chocolate color, the upper lip has a high-level retro feel.
Notes:
--Due to the differences between different monitors, the picture may not reflect the actual color of the item.

--If there is a problem with the product, please leave a message before giving you bad feedback.

--Thank you for your understanding.
If you're not fully satisfied, please fill in our
contact us form
and we'll quickly work to correct the problem.