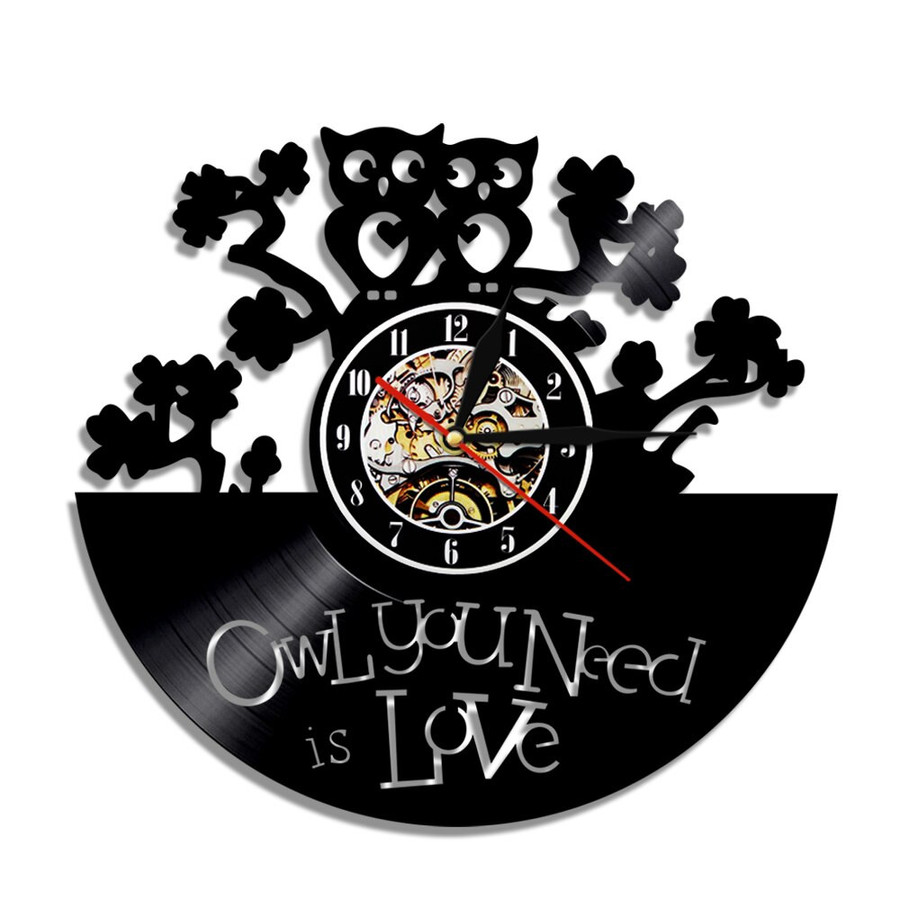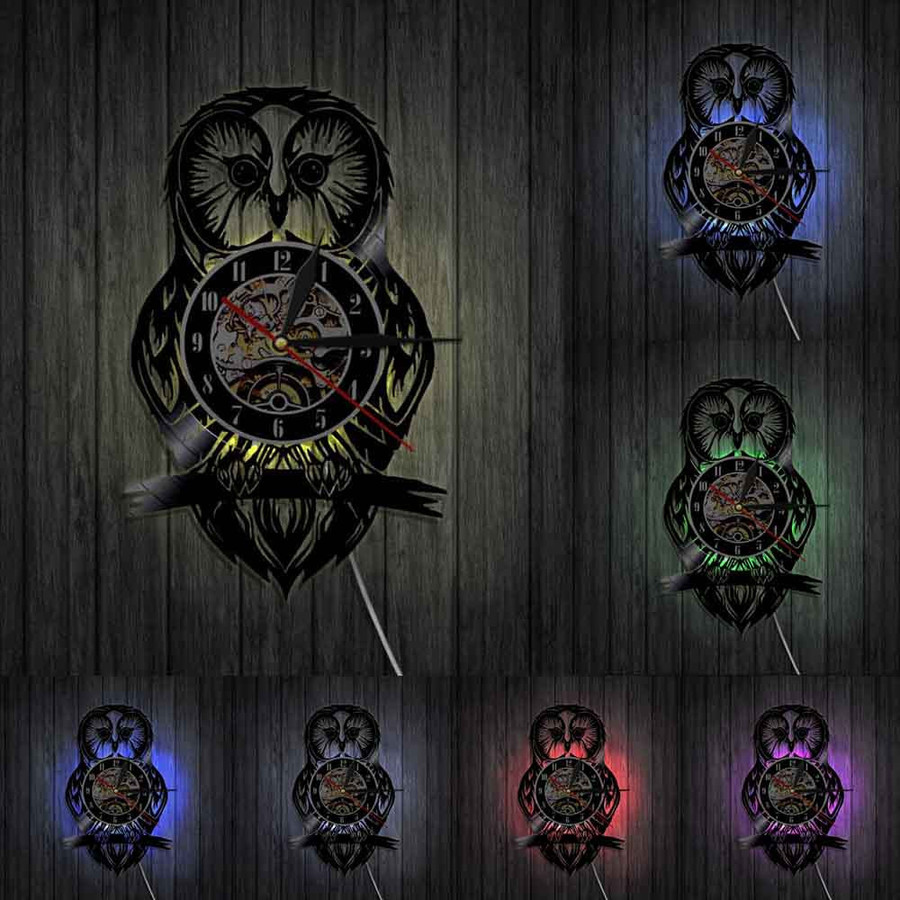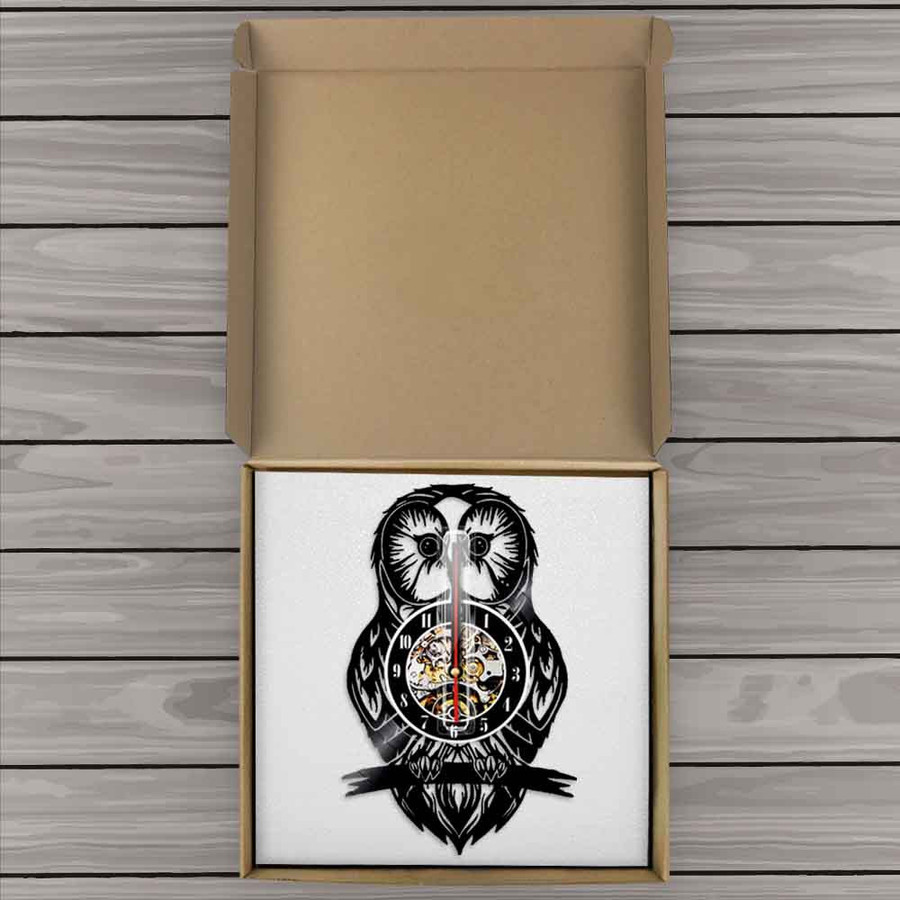 Owl Bird Silhouette Wall Clock Animal Bird Vinyl Record Clock Handmade Art Wall Decor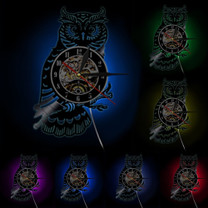 Vintage Vinyl Record Wall Clock
Using vintage and exclusive vinyl records, we make clocks with various themes and shapes.

The shape of music can't be described, however, we are endeavoring to make every vinyl longplay narrate their own stories.

For all the enviornmental protectors, vinyl is contributed to reduce the comsumption of other raw materials.

Moreover, the records used have already achieved their first mission — left haunting melody in someone's heart. That's the reason why you may find scratches on them. Then second mission — becoming clocks to beautify our home in a non-ticking way.
SPECIFICATION:
All clocks are made of 12 inch (30 cm) recycled vinyl records. We wish to give them new life but we care about the environment.

Clock Face is a Sticker
Vinyl Record Label Sent Randomly
Battery Type: 1 AA Battery (Not included)
Please note: Remote Controller CR2025 Battery is NOT included due to airline shipping constraints !
CLOCK MECHANISM:
We use high quality silent floating balance mechanisms. We would not want to disturb your sleep. Your good night sleep is of great importance to us.
PACKAGING
The clock is send in a durable, aesthetic packaging made of recycled paper. Everything is professionally wrapped, we use styrofoam inside protective spacers in order for your product to withstand all the challenges during the shipment :). We make every effort to make your parcel reached its destination as soon as possible and unharmed.
Home Improvement Expert
An awesome gift for any occasion and a good decoration for a bedroom, a child room, a living room, a bar, a shop, a cafe, a restaurant and parties.
LED Lighting Function:
You will be given 16 Keys remote controller to customize the colors of the wall clock. The LED component is USB powered. The 5V DC adapter will be sent together according to your shipping address.
Multiple Colors Changeable
If you choose the LED version lighting wall clock, you will be given 16 Keys remote controller to customize the colors of the LED vinyl light. With the remote controller, you will have a variety of light setting which include to power on or off lights, pause or play, dim or change speed of lights and also to create rainbow of colors.It is perfect for a wall decoration and also great as gift.

The Remote Controller require a CR2025 battery (NOT included) to function. The LED component is USB powered.
Please note:
For the LED version Lighting Wall Clock, the 5V DC Adapter will be sent according to your shipping address.
If you're not fully satisfied, please fill in our
contact us form
and we'll quickly work to correct the problem.