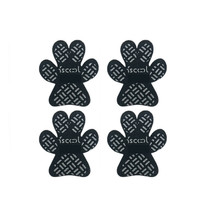 Anti Slip Dog Paw Pads | Protectors Self Adhesive Shoes
DESCRIPTIONS:
Product Name: Dog Super Anti-Slip Pads (4 pcs/set)
Material: Non-slip silicone dot + stretch cotton + acrylic viscose
Features: Anti-scalding, anti-skid, dust-proof, anti-cutting, and other functions of dog sole
Unique Distinguishing Features - Only Thick Non-Slip Silicone Gel can provide the greatest friction with the ground. Which keeps dogs from slipping on hardwood floors perfectly, or helps dogs with mobility and stability on tile and laminate.
Superior Materials - The pet paw protectors are made of high-grade breathable purified cotton cloth and non-toxic & hypoallergenic adhesive which is more durable and stronger than some similar products.
Easy to Use - The grip pads are disposable & self-adhesive. Trim your dog's nails & hair between pads; Keep the dog's feet clean and dry (can extend the use cycle of the traction pad); Remove the sticker and stick it on the paws.
Stealth Technology - One super thin layer of purified cotton fit with the dog's paws easily and perfectly, the doggie is not bothered by them at all.
Choosing Correctly Size - First Measure the dog paws' size, if it is between two sizes as per our Size Chart, then select the larger one; Or even smaller one can use them too, as there are two ways of applying.
SIZE COMPARISON CHART(different measurement units)
If you're not fully satisfied, please fill in our
contact us form
and we'll quickly work to correct the problem.