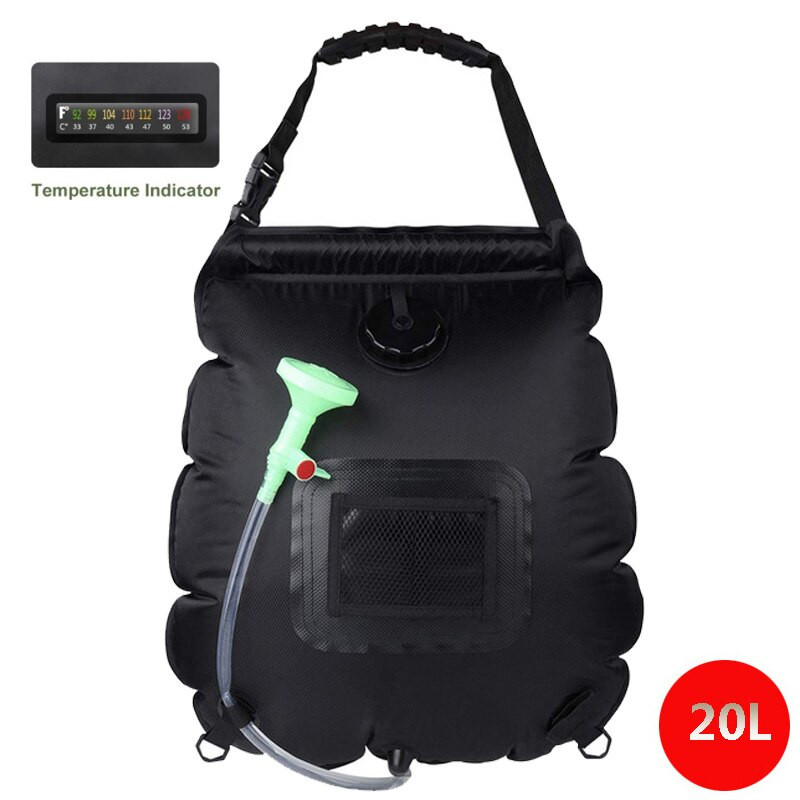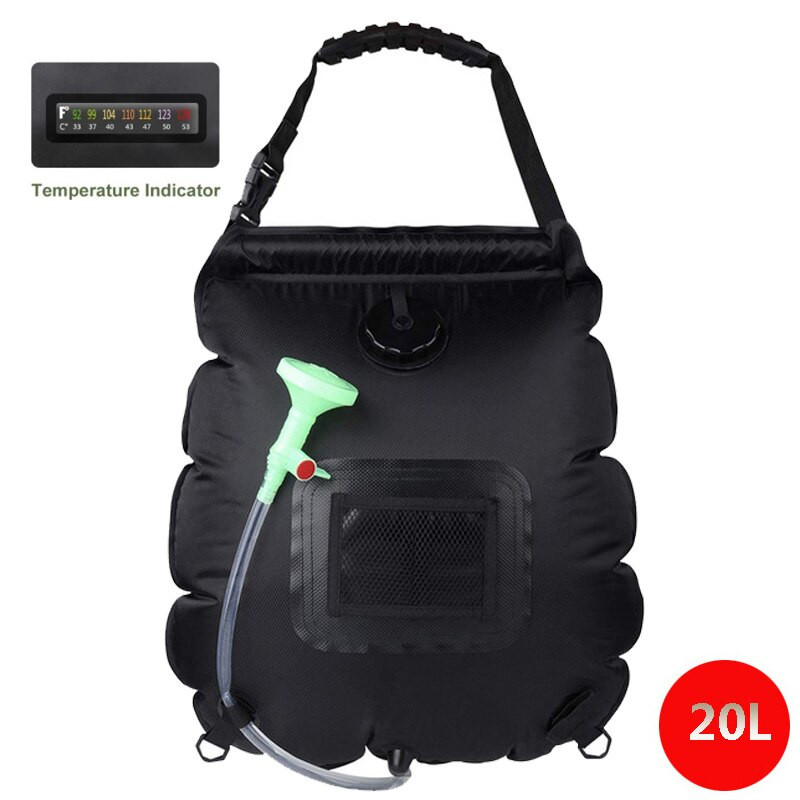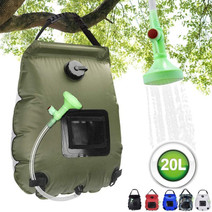 20L Outdoor Camping Portable Shower Bag
20L Outdoor Camping Shower Portable Solar Concentrated Heat Portable Shower Bag Hose Switchable Showerhead water bag
Name: 20L outdoor shower bag
Weight: about 430g
Capacity: 20L
Color: white, black, army green
Material: composite plaid cloth + environmental protection PVC, insulation cotton

Material 5 layers thickness 40+ silk
Product size: bag (45 * 50CM), tube 50CM (including nozzle)
Storage size: 30 * 14 * 5.5CM
Product list: shower bag * 1, hose * 1, nozzle * 1, storage mesh bag * 1
Suitable for scenes: camping quadrangle long-distance car
Solar energy saving heating. This solar camping shower bag is made of eco-friendly leak-proof PVC material, which is non-toxic and safe for human health. With UV heat seal coating, it can heat water for about 3 hours in direct sunlight without any plug-in devices, which is environmentally friendly and energy saving; the temperature indicator (℃/℉) on the back of the solar shower bag can help you monitor the water temperature, so you don't need to guess the water temperature in remote areas!

Practical shower and mesh pocket. Equipped with a large shower head and a soft hose, you can easily control the water flow by simply turning the switch on the shower head, bringing you a better showering experience! The front mesh pocket can hold mini travel essentials such as shower gel, shampoo, soap, facial cleanser, razor, nail clippers, etc.

User-friendly design. The large screw-in water filler allows for quick water refilling, and if you experience water leakage from the water inlet, you can adjust the white seal inside the lid. When adding water to the summer shower bag, the hose is first firmly connected to the bottom (Note: the bottom spout will leak). The T-shaped Velcro on both sides holds the shower hose in place, so say goodbye to dragging around bulky "tails".

20 liter / 5 gallon water capacity. This portable shower bag can hold 20L/5 gallons of water for outdoor showering for about 8-10 minutes of continuous showering, ideal for outdoor camping, hiking, backpacking, driving, fishing or hunting. It is the best gift for husbands, wives, fathers, sons, daughters, friends, co-workers and outdoor enthusiasts, making it an ideal outdoor item for them.

Easy to hang and carry. Camping shower bag with high weight-bearing plastic handle can be easily hung on a tree to enjoy outdoor shower quickly; when not in use, fold the shower bag and put it into the carrying bag (15.8×26cm), which can be put into travel bag, fishing bag, luggage, tree trunk, small size, light weight, does not take up extra space, very convenient to store and carry.
If you're not fully satisfied, please fill in our
contact us form
and we'll quickly work to correct the problem.