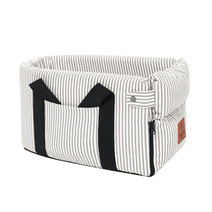 Small Dog Car Seat Center Console | Dog Car Carriers For Small Dogs
Product name: car pet safety seat
Product material: Fabric, PP cotton + cotton and linen blended
Filling: PP
Product size: about 42x20x22cm
Scope of application: small dogs, cats
Product color: beige; gray;wave point;stripe;pink;
Packing list: 1 * pet safety seat
Specifically designed for small dogs and cats, this car pet seat can effectively protect the safety of pets when traveling.
Four sides around the pet car seat can effectively reduce the bumpy ride caused by the collision between the pet and the seat, reducing the pets anxiety.
Dog booster seat keeps your pup off your lap, giving him a window view where he can see out and enjoy the ride.
A dog booster car seats to take your furry friend with you on the road, keeps your pet safe and secure when driving.
Made for going to the dog park, going on holiday, or a day of muddy hiking, it keeps your car seat dry, safe, and free of dirt, mud, or hair. We want your dogs to have a good time, just like ours!
If you're not fully satisfied, please fill in our
contact us form
and we'll quickly work to correct the problem.